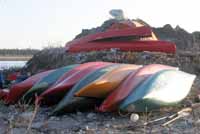 Moose River Crossing to Moosonee
75 km
Skill Level: Beginner
This package is a must for adventure seekers, outdoor enthusiasts, canoeists and naturalists. It combines the beauty and solitude of the Moose River, along with the historic Cree settlements of Moosonee and Moose Factory. There is no road access here. The only access is by rail aboard the world famous Polar Bear Express, which passes over the majestic Moose River, the major fur trading highway of days past. You will board the Polar Bear Express in Cochrane and then chug your way up into the heart of the James Bay Lowlands. The train ride itself is a special experience, providing scenic views of the dozens of rivers, along with a solid flavour of the intriguing passengers, most who are wishing that they had booked with H.W.E. for this once in a lifetime adventure. Before you know it the train will come to a halt at Moose River Crossing and your guide will scramble to get the canoes and your river gear off the train. The train will disappear quickly in the distance, and, with the Moose River just a hundred yards below, your river excursion will begin.
The days on the waters of the Moose River will allow you to grasp why this is one of H.W.E.'s favourite packages. Bald eagles, moose or bear sightings, huge sand bars, numerous islands, picturesque sunsets, and Northern Lights dancing above your tent as you listen to the river flowing past will bring thoughts of all those who have shared this before you. After three nights and four relaxing days on the water you will paddle into the historic Cree villages of Moosonee and Moose Factory. With a strong sense of accomplishment you will step onto their shores. So much history! You will find the Cree people and their culture fascinating. Their uncanny ability to live alongside with nature sends a powerful message to all. That is why itís only fitting to spend our last night at the Cree operated Ecolodge on Moose Factory Island before our departure the following day.
The Cree Village Ecolodge is one of the most environmentally advanced accommodation facilities in Canada. You will enjoy the comfort of their rooms, along with the excellent cuisine and still have ample time to venture out exploring these native villages. You will also be treated to a Cree guided river adventure by freighter canoe from the mouth of the Moose River out to the salt waters of James Bay. You will learn about the tides, different markings used by navigators, unique landmarks, take pictures, have a chance to see a Beluga whale and obtain additional historical knowledge of the James Bay area. Shortly after, you will board the Polar Bear Express to return to Cochrane. Wow...a life time of memories...in such a short time!