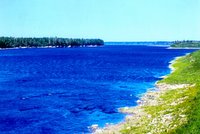 Moose River Crossing
Package D


Departs: Smooth Rock Falls, Ont.
1 day
Skill Level: Beginner (Guided by Howling Wolf Expeditions)



Trip Itinerary
This trip is designed for someone in the area, who is camping, visiting or whatever, and seeks a bit of adventure. H.W.E. can quench that urge with a full day outing on the Moose River at Moose River Crossing. This trip would definitely add to any vacation!
Your adventure starts in Smooth Rock Falls, Ontario where you meet your guide, Rick, to discuss your trip over a hearty breakfast. You then pack your gear into dry bags and are ready to shuttle down an old logging road to where you flag down the train at Fraserdale Station. Here you board the legendary Polar Bear Express, a special treat in itself. The train will chug along into the heart of the James Bay Lowlands, crossing dozens of scenic rivers, towards your destination, Moose River Crossing. After a couple of hours when the train squeals to a halt, your guide will scramble to get the canoes and gear off the train. These will be carried a short distance to the river.
Should you need it, you will be given instruction on basic canoeing skills and then paddle to visit the Cree burial site along the river to pay your respects. Your next stop on the water will be the Gypsum Rock Caves that line the shoreline of the Moose River for three kilometers. This is also a very spiritual area for the Cree people of the area. You will learn the history of the Cree of Moose River Crossing, their customs and beliefs. Eagles, hawks, geese, osprey sightings are not uncommon in this remote pristine wilderness location.
Before you know it, it will be time to flag down the Polar Bear Express (around 7:00 p.m.) for the return run to Fraserdale. Now you can sit back to relax and enjoy the train ride home. Moose River, Gypsum Caves, Cree Burial Site, Polar Bear Express. Wow, what a day! After this experience it may be time to find out what else Howling Wolf Expeditions can offer you!
(D) Package
1 day
$340.00/ person Cdn.
Includes
breakfast/ lunch/ beverages
guiding/ equipment
shuttle / train fares / to/return / Fraserdale