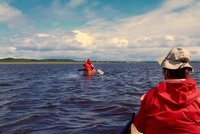 Abitibi River - Abitibi Canyon to Moosonee
Package B


Departs: Smooth Rock Falls, Ont.
7 days/ 6 nights
Distance: 130 km
Skill Level: Intermediate


Trip Itinerary
Day 1
Your adventure starts in Smooth Rock Falls on day one. First you will meet your guide (Rick) early that morning, discuss your trip over a hearty breakfast. Then pack all your gear ,most of which will be stored in dry bags. Then will shuttle down what use to be an old logging road (Fraserdale road) to the put in at Abitibi Canyon. Good chance of seeing moose or bear on this 80 km. stretch of road on our way to the Abitibi River.
Once were on the river just below the canyon will have an easy paddle of about 2 hours to our campsite at the base of New Post Falls. First we explore the old New Post gravesite thatís hidden in the dense bush along the river. The New Post site belonged to the Hudson Bay company dating back into the 1800's as you will see with some of the dates on the crosses. Take some photographs and discuss the history of this very special spot. Half an hour later we are at the base of New Post Falls.
This spectacle would be the highlight of any river expedition. Breathtaking, water gushing through a spit rock gorge, then dropping some 120 meterís below to continue itís path towards the Abitibi River. We'll climb up the side of the gorge to the top of the falls. The mist, rumble of the water, fog , rapids , barkless trees at the top. All reasons why you are viewing one of natureís most precious gems. Time for a group photo in the fog and mist. The group has shared a moment together that will last a lifetime. Back down the gorge to set up camp. A healthy meal for the evening is on the menu. The evening is spent around the campfire listening to the roar of the falls trading stories about the river, itís travelers, New Post gravesite and of course the mystic of the falls. Itís been a very relaxing day providing a wealth knowledge to all of the new visitors. Howling Wolf Expeditionís have designed all of there tripís with ample time to relax in order for our clientele to have a rewarding, positive wilderness experience.
Day 2-3
Day 2 starts with a healthy breakfast. Which might include pancakes, muffins, granola, oatmeal or dried fruits. We will be looking at about a twenty km. paddle for todays run. A quiet section of river that finishes with a class one rapid just before the takeout at Otter Rapids.
Otter is a huge power dam facility. Camp will be setup on the far right shore, where we have a excellent view of the Abitibi River.
Some 200 yards behind us in the bush is the home of Dairy Tozer. Dairy posses a wealth of knowledge of the surrounding area. He is always prepared to share it along with offering any assistance to comfort our stay at Otter.
Next morning, portage our gear to the tracks where we will flag down the Legendary Polar Bear Express. Throw the gear on for our short run down the track to Onakawana River to avoid a treacherous nine mile section of rapids that lays just below Otter. The train ride is always special. Passengers check you out, most of them wishing they were on this wilderness adventure. One never knows who they will meet on the Express.
One hour later were on the Onakawana River . 2 km. paddle to the Abitibi. William Tozer a professional Cree guide has his camp situated here. A coffee and a discussion with William is a must. There is no one better for guiding a Freighter canoe or a snowmobile group in the dead of winter through this section of river to Moosonee. Tozer is the real deal. No trip would be complete if you didnít have a chance to talk to the legend. Last we work our way down river and set up camp on a sandbar or Island for the evening.
Day 4-5
The usual a healthy meal to start the day. Today will be working our way down river to Allan Rapids. The high clay banks are starting to diminish as the river widens. More Islands appear along with additional sandbars. The Abitibi River has a deep channel of water compared to most riverís in NorthEastern Ontario. When the Missinaibi, Mattagami and others are bone dry you can still work your way down this one without dragging your canoe all the way. Good stretch of river for viewing eagles, hawks, geese, or maybe even a moose or bear strolling the shoreline.
We arrive at Allan Rapids a class 2-3 rapids (depending on levels) where the Abitibi River drains into the Moose River. Although not a real technical rapid it still has enough bite to crunch boats or their passengers. No shortage of stories here! Show you where the English set up to ambush Pierre De troy in 1698 as he attempted to raid the Hudson Bay post at Moose Factory for a second time. His first successful attack was two years earlier with the battle lasting less then an hour. The initial attack was a amazing feat of endurance. However this attempt had a very different outcome.
The waters of the Moose are a rich blue color. The brown tinge from the waters of the Abitibi are no longer to be seen. The river is very wide here, laced with islands, all shapes , sizes, most have names, all have character. We'll camp on a sandbar or island for the evening. You will be in awe of this pristine section of water, itís incredible sunsets and with luck you may be treated to an awesome display of Northern Lights. Itís not hard to feel the spirits of all who have traveled before you on this enchanting section of water.
Day 6-7
Roll out of bed. Home stretch to Moosonee. Shortly will negotiate the Kwataboahegan Rapids. A class 2-3 rapid (depending on levels). Mostly large swells in this one. If you run center or far right at a higher level it can swamp your boat. So of course we avoid these. 20 kilometer paddle from here. We take our time pulling in for a snack when were hungry. Drinking a lot of liquids, staying hydrated. We took the time when designing your trips to allow ample time for paddle segments..relaxation..so at the end of each day you are rested allowing you to enjoy your wilderness experience to the fullest. Safety, hydration, nutrition, receive top priority when you book with Howling Wolf Expeditions.
We'll pass the mouth of the North French River plus many smaller tributaries that feed the historic Moose. Huge sandbars, countless Islands.
We start meeting some of the Cree locals out on the water for a dayís fishing in their impressive freighters as we close the gap. Suddenly there is water taxis everywhere doing shuttles. You paddle into the historic Cree villages of Moosonee , Moose Factory established in the 1600's. You will have a strong feeling of accomplishment for what you have achieved but no time to celebrate, you still have to paddle over to the Cree village Ecolodge located in Moose Factory, surrounded by the rugged beauty of the Canadian sub-artic. Moose Factory was the first English settlement in Ont. From this environmentally facility you will be able to explore these two historic communities, the chuches, gravesites, and of course the old Hudson Bay trading post. Eco-lodge is impressive to say the least. Furniture throughout is natural wood and fibers, with details such as birch wood blinds on windows and natural wool bed spreads. Foot prints on the ceramic tiles portray some of the animals that live here.
Their (Shaapuhtuwaan restaurant) serving there modern version of Cree inspired meals. Excellent opportunity to obtain more knowledge of James Bay, the Cree people and of course the rivers, lifeline of these settlements. .If you still feel adventurist, talk to Rick about booking for you a Cree guided boat tour by freighter canoe( awesome way to travel ) from the mouth of Moose River to the salt waters of James Bay.
Beach on Shipsands Bird Sanctuary where you can photograph the wildlife and tidal marine fauna. Your guide will stop at various points explaining the tidal progression, ancient travel marks used by navigation, unique land marks and provide you with historical information on the James bay area.
Time to board the Polar Bear Express return to Fraserdale. The return train ride itself is a special experience , crossing dozens of remote rivers, providing scenic views, and a solid flavor of intriguing passengers. On your way back Howling Wolf Expeditions guaranties when the train slows down to a crawl over the bridge at Moose River Crossing you will stare out the window at the majestic river below, visualizing yourself paddling down it...this is when all your precious memories will begin.
(B) Package
7 days/ 6 nights
$1,250.00 /person Cdn.
Includes
Guiding / Equipment / Instruction
1 night/ Cree Village Ecolodge
Train Fare Canoes, to / from Moosonee