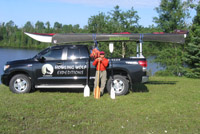 Canoeing Course
Flatwater
This is an excellent introduction to flat water canoeing designed for the beginner to intermediate level canoeist. You will learn the fundamentals of canoeing and about the strengths and weaknesses of different canoe compositions and designs, paddle materials, the proper sizing of paddles and the pros and cons of each. We will discuss and demonstrate, proper personal floatation devices (lifejacket), the most important asset in any canoe outing.
You will learn balance in the canoe, proper entry, landing and exiting out of the boat. You will be taught the proper technique for strong forward stroke, back stroke, sweeps and the J- stroke, which allows your stern paddler to maintain a straight line while the canoe moves forward without the loss of momentum. You will learn to switch paddling positions from bow to stern without going to shore.
You will learn safety skills such as proper boat outfitting, paddling setup in extreme conditions, canoe over canoe rescue and reentry into the boat while in the water. Of course, there will also be a discussion of the clothing and footwear best suited for canoeing, hydration and touch on hypothermia. Itís an awesome course for the newcomer on the paddling scene. If youíve paddled before, we will just design the curriculum to suit your skill and needs.
$150.00/person Cdn
Full Day Outing
Includes Instruction/ Equipment
(** Group Discounts Available **)