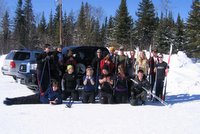 X- Country Skiing
Full Day Outing
What better way to be introduced to the sport than on the top rated trails of the Mattagami Ski Club! Enjoy the comforts of the main lodge, a beautiful structure built out of standing spruce logs and field stone. Its huge rock fireplace, walls decorated with artifacts of days gone by and its detailed wood work combine to provide you a cozy atmosphere to enjoy your meal at the end of your ski day.
After you meet your guide and instructor over a hearty breakfast you will head to the Mattagami ski lodge. There you will learn how to wax skis and discuss equipment and clothing. You will also pick up knowledge on hydration, nutrition and hypothermia to give you a strong base as you move into the sport of x-country skiing. You値l then go outside for the proper sizing of equipment, personal instruction and basic skiing technique. With proper equipment and instruction you will be ready to head out on the trails in no time. You値l ski the trails at your pace. As we ski, you will continue to receive instruction and learn about the wilderness and its animals.
You値l stop at a log shack in the bush, where you値l sit around the wood stove, relax and exchange stories and then hit your choice of trails, depending on your experience. Once your stomach says it痴 time to eat, after skiing, taking photographs or whatever, it痴 back to the main lodge for a healthy meal of homemade soup, sandwiches and cookies plus beverages. Keep in mind this incredible lodge has been rented privately for the enjoyment of your group. After relaxing around the huge fireplace, you値l be invigorated and ready to head out skiing again.
Your guide cranks out a thousand km a year on his skis, so be confident that you won稚 burn him out. Even if you have skied previously this package can provide you with plenty of additional knowledge. We値l simply upgrade the level of instruction. Awesome winter package for couples, families, schools and youth groups!
Mattagami Ski Club
Smooth Rock Falls, Ont.
$160.00/Person Cdn
Includes
Lodge Rental / Trail Passes / Breakfast / Lunch / Beverages
Instruction / Guiding / Equipment
(** Group Discounts Available **)