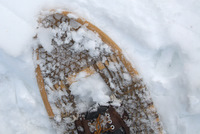 Snow Shoeing
Full or Half Day Outings
Love the x-country ski package, but leaning towards snow shoeing? Simple, same package as the skiing, but do it on rackets instead! Of course you don't need a wax clinic for snowshoes or instructions on technique. So what we throw in for this outing is a visit to McGee's workshop.
To say Wayne is an excellent wood craftsman is an understatement. In his shop, he will give us a demonstration on how to fabricate snow shoes out of Black Ash. We guarantee that by the time you leave this building you will be requesting to be put on his long list for a pair of these beautiful, hand crafted snow shoes, plus who knows what else.
You will spend the day snow shoeing trails on site at the Mattagami Ski Lodge or, if you prefer, we have other remote area trails for the adventure seeker. You will learn about the different types of snowshoes, their designs and materials, along with the pros and cons of each type, and the benefits of proper clothing, hydration and nutrition, and even the danger of hypothermia. It'll also be the time to learn about the wilderness, the different tree types and the animals in this area. Awesome winter package for couples, friends, families, schools, youth groups!
Smooth Rock Falls, Ontario
Snow Shoeing
(Full or Half Day Outings)
Priced accordingly to: Length of Program / Location / Lodge Rental / Meals / Participants