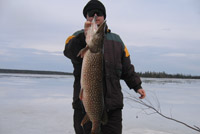 Ice Fishing
Full Day Outing
In charge of a group of youth, a school outing, or maybe you just want to head out with the family for a day activity? A day out on the ice, fishing, seems to be a poplar winter recreational outing. Youíll begin by meeting your guide and, after a hearty breakfast, would drive out to the Conservation Club facility situated off Indian Lake road, on the shore of Ouellettes Bay, where you will spend the day fishing, relaxing, or even doing a bit of snow shoeing, if your energetic. This facility is surrounded by thick spruce trees and large cedars. Itís equipped with electricity, indoor washrooms and a large kitchen.
The Conservation Club will be a private rental for the day to ensure the most privacy and comfort for your group. On the ice youíll have access to a large, clean fish hut, equipped with wood stove to keep you comfortable while you spend the day ice fishing. You will learn traditional ice fishing techniques, and have access to snowshoes for a shoreline stroll, if youíre up to it. You will learn about proper clothing for winter outings, hypothermia, hydration, nutrition and about the different kinds of snow shoes, the wilderness and its animals.
You will be treated to a healthy meal of homemade soup, sandwiches, cookies or cake, along with different beverages of your choice, served inside the comforts of the Conservation Club.
After lunch youíll still have time to fish some more out on the ice to finish the day. Ice fishing, snow shoeing, a cozy lodge, a homemade meal, a fish hut, wilderness knowledge, and an excellent guide - I canít think of a better way to spend a winterís day!
Ice Fishing Ouellettes Bay
Smooth Rock Falls, Ontario
$150.00/person Cdn
Includes
Club Rental / Hut Rental / Breakfast / Lunch / Beverages
Instruction / Guiding/ Equipment
(Group Discounts Available)
Customize this Package? Just call Howling Wolf Expeditions