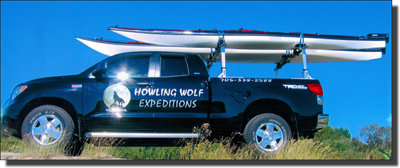 Reservations and Bookings
Register
At
Howling Wolf Expeditions
we prefer that registrations be done by phone. This way we can have a better idea of your skill level, physical capacity, and exactly what youíre looking for in your outing.(Perhaps youíre big into photography, more of a paddler, a naturalist, love to fish or have a certain diet.)
Itís important to us that you have a discussion with your guide, instructor, to get to know each other. This helps us ensure that you will have a rewarding, satisfying experience. The majority of our programs can be customized to fit your needs. However, as with any reputable business, there will be no compromising when it comes to your safety.

For Enquiries or to Register
Phone: 1-705-338-2588
Cell: 1-705-338-7460
or Email: rick.isaacson@hotmail.com
Terms and Conditions
We require a 20% deposit upon reservation to secure your spot with Howling Wolf Expeditions. Final payment for any program is due 30 days in advance of the start date. We accept Visa and Mastercard by telephone or cheque by mail. Are you representing a group? When you call, tell us, as group discounts may apply to the program in which youíre interested. Also a reduction in price may be available if you supply some of your own equipment.
Cancellation Policy
We offer a full refund, less a $40 administration fee, for cancellations made more than 60 days before the program start date. Cancellations made 30 to 60 days before the program start date will receive a full refund less the deposit. Cancellations made within 14 to 30 days will receive a 50% refund. Any cancellations made with less than 14 days will not receive a refund. If you are able to find a suitable replacement you will receive a full refund. Howling Wolf Expeditions reserves the right to cancel any trips with too few participants.
Liability Waivers
Every adventure activity has an inherent element of risk. A medical questionnaire and liability waiver must be filled out and signed by each participant before any adventure outing or instructional program.