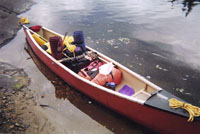 Personal Gear Items
Personal Gear List
This is a sample list for your Howling Wolf Expeditions water adventure. If you're out on your own personal outing, this list is incomplete. Once you have booked a trip, you will be told exactly of what your packing list should consist. Remember you will have many of these items for a long time, so do yourself a favour. You deserve it. Buy quality now and brag about it forever.
Personal Items
Personal Medications ( No substituting this one )
Sleeping Bag 2-3 season..Synthetic fills are very compressible, light and quick drying if needed.
(Avoid cotton or Grandpaís 5 star hunting bag).
Small Towel: synthetic chamois absorbs well iseasy to wring out and dries quickly
Toothbrush, Toothpaste, Brush, comb, Shampoo etc.:in small containers, preferably biodegradable
Sun Glasses: with strap: Try tripping on sunny days on water without shades -Migraines!
Sun Screen-30 spf: or more
Insect repellent: (Watkins is a good choice)
Flashlight:Head lamps are excellent AA battery types a good choice for proper size
Water Bottle 1 Liter:We can recommend what type best suits your needs.
Clothing
Long sleeve T-shirt:: Light weight synthetics like polyester are excellent choices
Short sleeve T-shirt:Same material as long sleeve as it dries quickly, breathes well and is comfortable
Pants:Nylon pants a must as they are quick drying, offer sun and bug protection and warmth
Socks:Light wool or quick drying polyester wicks moisture away, avoids blisters and cold.
Bathing Suit:Hey youíre on vacation! Nylon shorts for boys, two piece for the ladies if they find it more convenient. ( For the girls.. nylon shorts also protect the tops of thighs)
Wide-Brimmed Hat:Protects face and neck from sun. Goretex is excellent as itís light and waterproof.
Paddling Gloves:(optional): Light neoprene is a good choice. They help prevent blisters and add warmth
Nylon Hiking Boots:You want them to be lightweight, offers good support,and secure well to your feet.
Avoid leather!..never dries..weighs more then your guide when wet!
(** Avoid cotton or denimís **)
Night Clothes
(Stored in Dry Bags during day..so your comfy at night)
Light Jacket: Fleece or Windbreaker with nylon shell ( Good choices )
Long Sleeve T-Shirt:Merino wool or polyester
Long Pants:..You guessed it, Nylon
Socks:: Wool or a quick dry material...No cottons!
Underwear:Long and Short in polyester as itís light and comfortable
Toque:: Fleece or Wool- A must for the wilderness tripper...Retains those precious BTUís
Nylon Hiking Boots,Shoes, Runners: protects feet at campsite (Avoid sandals)
Bug Jacket:The equalizer when tripping in black fly, mosquito territory!
Rain Suit:Buy a quality outfit thatís waterproof, two piece with a hood.You wonít regret it!
Optional
Spending money:(Credit card necessary on some trips. Weíll inform you) and a small journal
Camerawaterproofed or disposable.
Pocket knife(Folding one, sheath) ..No Ramboís!
Alcoholic Beveragesacceptable, once campsite is set up for the evening. They must be stored in a non-breakable container, such as a Nalgene jar. Avoid beer ( Weight )
** Alcohol Consumption Will Not Be Allowed While On the Water **