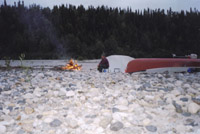 Mattagami River to Moosonee
Package A


Departs: Smooth Rock Falls, Ont.
8 days / 7 nights
Distance: 190 km
Skill Level: Intermediate


Trip Itinerary
Day 1-2
Your adventure starts in Smooth Rock Falls, Ontario where you will meet your guide, Rick, early that morning, to discuss your trip over a hearty breakfast, after which you will pack your gear, most of which will be stored in dry bags. You will be shuttled up what used to be an old logging road (Frasedale, Smokey Line) to your put in on the Mattagami River. Not only is this road the furthest point North that is accessible by vehicle, it also offers the opportunity to view moose and bear on the way. Almost at roadís end you will drive over Little Long Dam. Its huge water reservoir is fed by the Mattagami, Ground Hog and Kapuskasing Rivers. The road over this massive facility is about six km in length. Shortly after, you will arrive at the put in on the Mattagami River, at the base of the Kipling power dam, and the end of the road access. Only river transportation from here on, thank God! You will pack the boats, discuss a bit of history of the area and have time to paddle and relax. You will move down river about 16 km. on flat water to your first campsite, a campsite that is on a beautiful gravel bed at the mouth of Adamís Creek. As soon as the canoes are out of the water you will be combing the area for fossils, since this spot is the ideal location to examine many. After you have had your fill of searching for fossils and, of course, keeping a few of the more precious finds, it will be time to sit down to a hearty meal, while you enjoy the pristine view of the area. Later you will sit around the campfire, trade stories, get to know each other, reflect on the dayís activities, enjoy the stars, and discuss the adventures that lay ahead on day two.
Day Two starts with, you guessed it, a healthy breakfast, which might include pancakes, muffins, granola, oatmeal and dried fruits and other homemade surprises. You will discuss your dayís approach on the water and at which area you will set up your campsite down river. It will be an excellent day for moving water enthusiasts (people who like to paddle rapids). Your first encounter with moving water is at the Grand Rapids, about 20 km from our first campsite. This rapid can vary from a class 2 to 3, depending on water levels. During the summer levels, it will lean more to the lower end of the classification. Itís about 5 km in length and is a very scenic rapid, with crystal blue water running over huge slabs of limestone with deeper pools in between, bordered by cliff walls consisting of loam and clay. This is indeed one of the pristine sections of this river.
Next you will run a lengthy rapid, a class 1 to 2 depending on water level. After paddling another five km you will set up camp on one of the choice sandbars. Remember, H.W.E. has designed their trips so that you will be well rested at the dayís end so that you can relax and enjoy your campsite to its fullest. After this dayís run, there will be plenty to talk about around the campfire!
Day 3
The usual start! Maybe a little stretching, if you are a bit stiff from the day before. Today is a more relaxing day on the water. Your only set of rapids is the Long Rapids not far below your tent site. Itís a class 1 or 2, supplying us with an energetic start for the day. You will work your way down river, keeping your eyes open for moose or bear. This is a beautiful section of the Mattagami River consisting of huge gravel beds, untouched wilderness and wildlife and shorelines thick with black spruce, poplar and aspen. You will spend the night at the mouth of the Missinaibi River where it joins the Mattagami River to become the legendary Moose River.
Day 4-5-6
After breakfast you will paddle into Moose River Crossing. There you will explore the gypsum caves, learn the history, beliefs and culture of the Moose Cree who lived in this area and visit the Cree burial site along the river to pay your respects. As you work our way down river you will be treated to sightings of eagles, geese, hawks and even the odd moose or bear . Youíll see the mouth of the Abitibi River as it roars into the Moose, plus the French River and dozen of smaller rivers that also feed it. This section of river is laced with all shapes and sizes of islands, most of which have been named and all with character. You will camp on sandbars or ends of islands. They are very scenic with plenty of firewood and excellent spots to swim or wash. After days of river travel you will begin to feel its pulse, be in awe of the sunsets, for they are second to none, and, late at night, when the Northern Lights appear, youíll be guaranteed a pristine, majestic dance, for they are performing for the mighty Moose and the spirits of all those who have passed before you.
Day 7-8
You will paddle the home stretch into the historic Cree villages of Moose Factory and Moosonee. Water taxis buzz everywhere, most doing the water shuttle from Moosonee to the Moose Factory Island. You will feel proud of your paddling accomplishment as you set foot on the shore of Moosonee. However you will feel sadness that your paddling experience on the Mattagami has come to an end. This will be short lived once you step inside the beautiful Cree Village Ecolodge, located in Moose Factory, surrounded by the rugged beauty of the Canadian sub-arctic. This will be your home for the night. From this environmentally advanced facility you will be able to explore these two historic communities, along with their churches, gravesites and, of course, the Hudson Bay Post. You will enjoy the comforts of the Ecolodge in between your outings. Furniture throughout is natural wood and fibres, with details such as birch wood blinds on windows and natural wool bed spreads. Footprints on the ceramic tiles portray some of the animals that are home to this area. In their Shaapuhtuwaan Restaurant you will be served modern versions of Cree inspired meals, in an atmosphere resembling the traditional social space for the Cree. This will be an excellent opportunity to pick up more knowledge of James Bay, the Cree people, and, of course, the rivers, the true lifeline of these settlements.
The following day you will board the world famous Polar Bear Express and travel over 200 km by rail to your shuttle. The train ride itself is a very unique experience as it crosses dozens of rivers, providing scenic views, along with a solid flavour of intriguing passengers. On your way back H.W.E. guarantees that, as the train slows down to crawl over the bridge at Moose River Crossing, you will stare out the window at the majestic river below, visualizing yourself paddling down it. This is when all your precious memories will begin!
(A) Package
8 days / 7 nights
$ 1,740.00 Cdn.
Includes
Shuttle to river
7 days on the water which includes, guiding, equipment, meals
1 night stay at Ecolodge
All meals at Ecolodge
Train fare / passenger, canoes/ from Moosonee
: Flying into Timmins? Need extra accomodations?
: Shuttles? Additional night visiting Moosonee?
: Cree Guide excursion/ salt waters of James Bay?
: No problem...just call H.W.E.