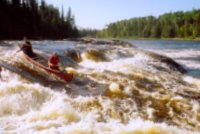 Missinaibi River
Camp 95 to Mattice


Departs Smooth Rock Falls, Ont.
4 days / 3 nights
Distance: 72 km
Skill Level: Intermediate



Introduction
The Missinaibi is one of Canadaís great unspoiled rivers. It sitís in a corner of North Eastern Ontario. It starts from itís lake source north of Chapleau runs some 400 kilometers to join the Moose River in the heart of the James Bay Lowlands. The Missinaibi was a major fur trading route where voyageurs a century ago would paddle their fur pelts to the historic trading post of James Bay.
There is no power dam on this remote river. Canoeist from around the world have paddled sections of this pristine river. Will concentrate on a section of this river that we access from an old logging road bridge that crosses the river at a abandoned bush camp from dayís long ago. Interesting enough for a river that stretches over 400 k.m.s. there are only four five access points. So you can see why itís a paddlers paradise. However it is a river that should be paddled by canoeist with experience and a qualified guide. The section we run is one of the most breathtaking. Seven different falls including the scenic Beaver and Glassy. Dozen set of rapids ranging from class one to three. Well Sharp Rock could be a four. But you better have impressed your guide on the river coming down, if your thinking of getting the clearance to run this one. If the water level, canoe skills are there, Devils Cap is all you need. All of these rapids can be portaged or lined.
At Howling Wolf Expeditions priorities are safety, nutrition, and hydration. Our paddling segments have been designed to allow for ample time around the campsite in the evenings, so our clientele can relax around the campfire, trade the dayís stories and anticipate what awaits them tomorrow. Will visit the Cree burial site that sitís a kilometer above the town of Mattice. Tombstones dating back a century ago. Lotís of wildlife on this river. Eagles are very common, along with the odd osprey. This river package has it all, falls, rapids, scenery ,wildlife, grave site and a lot of character. When you step out of your canoe in Mattice you will know why the Missinaibi River is one of Canadaís great wilderness rivers.
Trip Itinerary
Day 1
Your adventure starts in Smooth Rock Falls Ontario on day one. First you will meet your guide (Rick) early that morning, discuss your trip over a hearty breakfast. Then we shuttle the vehicles down to Mattice at the takeout location. Will drive down an old logging road to our put in on the Missinaibi River. Easy little paddle down to Two Portage Falls. Short distance to Pond Falls. Camp here, or perhaps at the next falls just a short distance away, Devils Cap. Regardless these spots are all cozy. Always nice to spend the night under the stars, with the rumble of the falls just a stones throw away. Spend the evening around the campfire, exchange stories discuss the layout for tomorrow. Relax, toss in a line for walleye.
Day 2
Day 2 starts with a hearty breakfast. Which might include pancakes, muffins, granola, oatmeal or dried fruits. You will be burning calories today. We'll be running some solid rapids as soon as we launch our canoes. The morning is spent scouting, running rapids. Will hit Wilsons bend early afternoon (swifts). Late afternoon on the Albany Rapids. Lengthy rapid with not much bite. Very scenic all kinds of round white boulders dotting the river. Excellent area to view wildlife, for the moose, bear love this location. We work our way down to Big Beaver Falls. Iíve noticed in some books they call this a rapid. Well if this one is a rapid, Iíd like to see what they call a falls. Beautiful spot, river splits into two gorges. We camp high up on the rock face. Campfire will burn bright tonight for the adrenalin will still be pumping for awhile from what we seen and achieved today.
Day 3-4
We finish portaging our gear from our campsite at Big Beaver. Will Paddle back up the river a touch to get some excellent photos at the bottom of the gorge. First up around the corner is Little Beaver Rapids. Nice little rapid, but has a tendency to have the occasional sweeper. Will move down river to Sharp Rock Rapids. Odds are heavy we want be running this. Iíve seen it in low water and itís got some serious spikes that protrude from the bottom, licking there chops for the opportunity to make shish ka bob out of a paddler or his mad river. Beautiful spot, staggered jagged rock everywhere, excellent bass hole. Good little camp spot here if we chose. Chances are will move down river to Glassy Falls. Excellent camp spot, long sandy beach, with a pristine water falls. Spend a relaxing evening. Keep in mind if your passion is reading,fishing, swimming, photography, whatever, or just finding your own private corner, take the time to do it, itís your vacation. Our job is to deliver. Last day is a very relaxing paddle day. Less then twenty clicks to go, with no portaging. A few little rapids at the start but all is quiet till we hit the crow rapids. Nice little ledge that runs across the rivers width. Just enough in it to keep you awake but allows time to glance around for crows. Will pull into shore at the Cree Burial Site. The town of Mattice have upgraded this site. Special spot, makes you realize just how important the river was for the Cree people. You will notice the name Neegan on a few of the headstones. Relatives of Fred Neegan who lives in Mattice. Fred is an excellent paddler. He is in his seventies and still paddles from Mattice to Moosonee at least once a year. Fred is a man of wisdom that is always willing to share his knowledge on life or the river. Two bends on the river, we pull into Mattice. Awesome little run on one of Canadaís great wilderness rivers. High fives, climb the hill, knock on Freds door, head for the restaurant, record our adventure in the river log book and time to find out what other gems Howling Wolf Expeditions can provide for you.
(A) Package
4 days / 3 nights
$980.00/ person Cdn
Includes
Meals / Shuttle / Guiding / Equipment